In Defense Of The LA Times Poll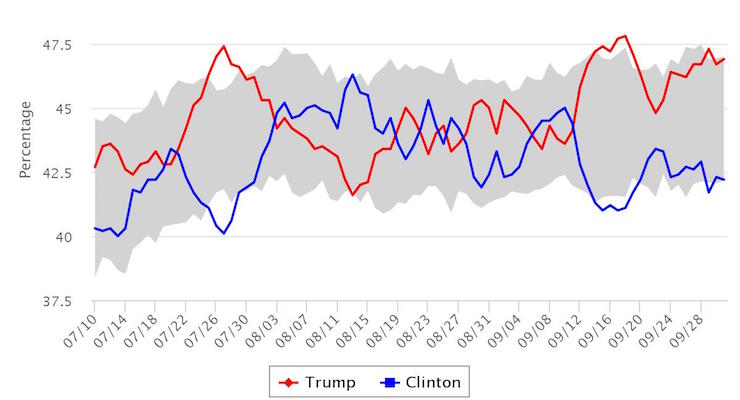 After nearly a week of interviews conducted after the first presidential debate, Donald Trump leads Hillary Clinton by roughly 5 points in the LA Times Poll, 46.9% to 42.2%. TV pundits have stuck to conventional political wisdom, despite the fact it has failed them at every turn this election cycle.

As a result, the LA Times Poll has been taking even more heat than it has in the previous several weeks, which is really saying something.

Last week, during an appearance on Fox News, Larry Sabato, whom we respect (so save your emails), insinuated "random sample polls" have shown an impact from the debate that favors Mrs. Clinton. It was an indirect dig at the LA Times Poll–and, the People's Pundit Daily U.S. Presidential Election Daily Tracking Poll for that matter–a dig that has been repeated on Twitter by others like Sean Trende at Real Clear Politics.

But there's something pretty damn significant missing from the conventional wisdom-based argument, something I think readers and election-watchers should know. In 2012, the model and methodology they are using, which was designed by the team behind the RAND Continuous Presidential Election Poll, or the "Daybreak Poll," was right when most other traditional random sample polls were wrong.
Read the rest here
.